2008-09-05 21:56:00 ET

EDIT: This entry is actually from August 26. I have since read a good biography of Louise Brooks (the 1989 one by Barry Paris), and I now know that she was a remarkable person, and I know I like her. I am sure of her amazing individuality.

"I must confess to a lifelong curse: My own failure as a social creature.

And I do not excuse myself with the usual escape of 'not trying.' I tried with all my heart."
- Louise Brooks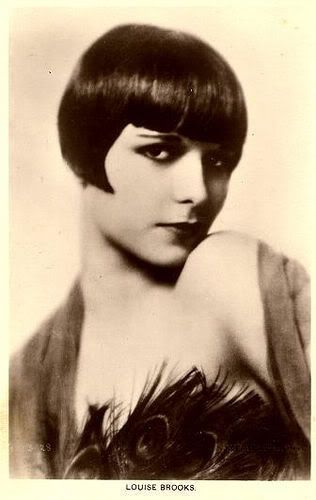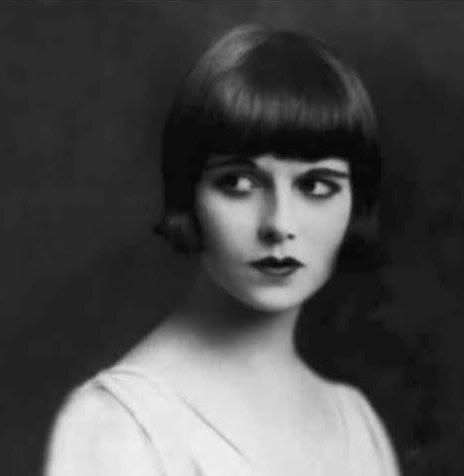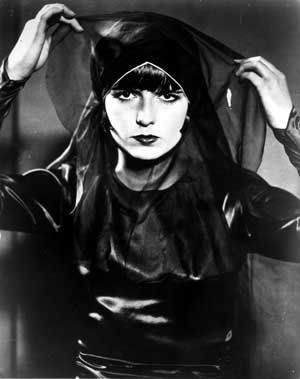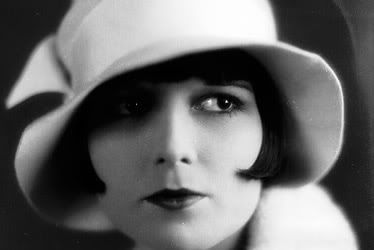 This is one of my favorite, if not my favorite, actresses. She was a silent-era actress, an iconic screen persona, naturalistic, especially in comparison with the exaggerated, expressionistic style of a lot of silent film actors (which style I like, too), oddly contemporary. Though she was only in cinema for about a decade, her legacy is considerable, and I think she is the most important "flapper"-actress. You certainly recognize her hairstyle, if nothing else of her. I don't know if I like her as a person (some things strike me as kind of sour, smacking of non-greatness), but I do love to see her acting, always. She was truly original.

A short biography, which I basically based on and took/culled from Wikipedia and this article in a newspaper:

"I have failed in everything - spelling, arithmetic, riding...dancing, singing, acting; wife, mistress, whore, friend."

Louise Brooks, sometimes called "Brooksie," was born in Cherryvale, Kansas in 1906 and grew up in various cities in Kansas, until the age of 15. Her father, Leonard Porter Brooks, was a lawyer who didn't have much time for his children, and her mother, Myra Rude Brooks, was an artistic person, a talented pianist, who told her husband that "he was her escape to freedom and the arts, and that any squalling brats she produced could take care of themselves." She always had a cold, distant, strained relationship with her mother. Mrs. Brooks, however, instilled in her children a love of art, literature and music. At the age of nine, Louise was molested by a middle-aged man named, interestingly/amusingly enough, Mr. Flowers, having followed the lure of the candy he would leave on his doorstep every day and come inside his house, which the other children weren't bold enough to do (has that ever happened in reality?!). Louise later said that the experience had a great influence on her sexual attitudes: "For me, nice, soft, easy men were never enough – there had to be an element of domination," and blamed her psychological damage on it. She said, "I was loused up by my Lolita experience."

When she was 15 (in 1922), she left Kansas to move to New York City, where she pursued her dancing career and joined the artsy Denishawn Dance Company, run by Ruth St. Denis and Ted Shawn. However, she left two years later, when St. Denis told her in front of everyone, "I am dismissing you because you want life handed to you on a silver salver." (These words made a great impression on her and she later titled the last chapter of an autobiography "The Silver Salver.") She caught the attention of Florenz Ziegfeld while on stage and then joined the famous Ziegfeld Follies. Charlie Chaplin, who saw her performing, was attracted to her and they spent the summer of 1925 going around together in a notorious affair. Louise already had a reputation of being a "tramp."

Having been noticed by a producer for her performance on the Follies, she signed a five-year contract with Paramount Pictures in 1925. She debuted on the screen in The Street of Forgotten Men (1925) in an uncredited role. Soon after that, she was starring in light comedies and flapper films, including a "vamp" role in A Girl in Every Port (1928). "Women all over America copied her hairdo, and for two years in Hollywood every little breeze whispered Louise. But they could never copy her caprice."

In 1926 she married Eddie Sutherland, one of her directors, but she soon fell in love with George Preston Marshall, owner of a laundry chain and future owner of the Washington Redskins football team, and divorced Sutherland in 1928. Hating the Hollywood scene, she quit Paramount and went to Europe with Marshall, who wanted her company on a cruise. She is known for her disdain for the industry and her independence from it. "And then in a kind of afterthought of unemployment, she accepted an offer to make a film in Berlin for a director she'd never heard of. She was no great authority on American directors, let alone German expression-realists." She made the film, Pandora's Box, her best, with director G. W. Pabst. Pandora's Box is critically acclaimed and often considered one of the greatest silent films, and is (in my opinion) definitely her best, her greatest role. She then starred in another film directed by Pabst, Diary of a Lost Girl (which I also really like). After that, she starred in Prix de Beaute, a French film. "By 1930, after just three European films, Louise Brooks was the rage of Berlin and Paris. And then she fled from the scene of her triumph – which was typical of her. Time and again, Louise Brooks snatched obscurity from the jaws of fame." (She had a way of what we see as sabotaging her life, when for her she was probably just living out her life or following her heart or doing what she wanted or mistakenly chose.)

"When Brooks returned to Hollywood, she didn't find it waiting with open arms. Her often indifferent attitude to filmmaking led to fewer and fewer roles, eventually forcing her into bankruptcy, a return to dancing, a few bit parts in bad movies..." "It was not until 30 years later that this rebellious move (quitting Paramount and going to Europe) came to be seen as arguably the most savvy of her career, securing her immortality as a silent film legend and independent spirit." When Louise refused to come back to Paramount for sound retakes of The Canary Murder Case, she was placed on an unofficial blacklist. When William Wellman, her director for Beggars of Life (1928), offered her a starring role in The Public Enemy, she turned it down to visit Marshall in New York City. "She just wasn't interested....She was more interested in Marshall." (The part went instead to Jean Harlow.) She had a continuous, on-off, relationship with Marshall throughout the 1920s and '30s, which she described as "abusive."

In 1933 she married millionaire Deering Davis, but left him only five months later (they officially divorced in 1938). As her opportunities diminished and she failed to seize them, her acting career was waning and coming to a close. Her last film was the 1939 John Wayne Western Overland Stage Raiders, in which she played the romantic female lead, with a long hairstyle, so drastically different from her earlier days. After a failed attempt at operating a dance studio, she finally left Hollywood. "Retiring" from the screen at the age of 33, she sank into obscurity, misery, and hardship. "Enough was enough. Disgusted, depressed and pretty near destitute, it was time to say farewell to Hollywood once and for all. It was time to give up. On July 30, 1940, she took the train home to Kansas." "But that turned out to be another kind of hell," Louise said of her return to Wichita. "The citizens of Wichita either resented me having been a success or despised me for having been a failure." Her relationship with her mother grew worse, and Louise came to hate her. She was constantly involved in scandals, "always written up in the paper," where it would be a "story about a wife coming home and finding her husband 'being taught a ballroom dance horizontally in bed.'"

She went back to Manhattan in 1942, having been wired the money for a train ticket by a rich New York investment banker who wanted her company. Things didn't get any better for Louise. She worked briefly as a radio actor and gossip columnist, and for a few years as a salesgirl in a Saks Fifth Avenue store. She had lifelong problems with alcohol and alcoholism, which she battled to begin writing about film later. "During this period she began her first major writing project, an autobiographical novel... After working on the novel for a number of years, she destroyed the manuscript by throwing it into an incinerator." She had been an extravagant spender her whole life, "but was kind and generous to her friends, almost to a fault." "Between 1948 and 1953, I suppose you would call me a kept woman," she said of that time. "Three decent rich men looked after me."

In the 1950s, "French film historians rediscovered her films...proclaiming her as an actress who surpassed even Marlene Dietrich and Greta Garbo as a film icon...much to her amusement." She was living as a recluse in New York City at this time. She became a writer and critic of the silent era, reflecting on her career and life as a butterfly. "How I have existed fills me with horror. For I have failed in everything..." Her writings were published and well-received, impressing readers. "She was profiled by the film writer Kenneth Tynan in his essay, 'The Girl with the Black Helmet,'" and "had special relationships with [a couple of] film historians, and they were able to capture on paper some of her amazing personality." She was also interviewed in the '70s for documentaries, Memories of Berlin: The Twilight of Weimar Culture, and the Hollywood series. Louise Brooks died in 1985, at the age of 78, of a heart attack.

Her beauty is always remarked. At first, I wasn't sure if I thought she was exactly beautiful, her particular look, but I guess I do now, and I love incredibly how she looks, and her amazing persona, her seeming brilliance as her character. Someone once described her effect in less-than-great movies as that of a "lighthouse," shining through, the only bright spot in the midst of mediocrity. I don't think most photos do her justice; you just have to see her "in real life" - i.e., on the screen.

There were two truly good movies she was in, Pandora's Box and Diary of a Lost Girl, one being on a lower level of artistic merit than the other. But I do always love Louise Brooks. She always shines. She has a very distinctive look, style, and persona. And I'd like to believe she's like her characters, it's even kind of hard to separate them, though I don't know if I'd like her as a person. It's interesting how she was never really quite a success. I think that it's easy, when looking back at the lives of celebrities or whatever, to see their life as a kind of inevitable fate, like a line you are just tracing. But with Louise, you can kind of see her actually living out her life, being able to make choices, to not be completely interested in acting, to turn down opportunities, being interested in other things, when she could have been a star. And it's weird, her character is always the same and seems to exist outside the reality of the movie in a way. She can bring her character to any movie, she's been in bad movies, too, but it's always refreshing to see her. She's just herself, though I have no idea who she was outside her role. And I once read about Pandora's Box that she stands for "innocence, impulse, and freedom." That's what her character represents, then. She is the quintessential flapper. She's this bright, charming, vibrant woman who has a lot of integrity and not really anything manipulative about her; she's just playful and loves freedom and attention; what causes her downfall is that people around her aren't as good as she is. And I imagine her dancing and smiling and shining vivaciously in this eternal 1920s world. Beautiful and damned, and somehow limp and full of sorrow. "Lulu forever."

Oh, Louise. If ever I loved an actor (and I'm not one to "love" actors), it was this one.