So I think I might believe in psych meds. I dunno, I just feel everything in my head slowly sorting itself out. I don't feel very angry with the world, like I just wanna draw or play a game or watch a video. I'm sure I'm still as odd and off-beat as I ever was, but I feel pretty good.

Oh, yea so me and my lovely (it's been more than three years now) bought 12 acres in B.F.E., Maine and had a cabin of sorts built, so maybe it helps I wake up in the morning and I see all these woods and not a bajillion people. :P

Happy Saturday!
---------
Fingers
Team Sonic Racing (XBONE)
Sonic Forces (EVERYTHING)

Eyes
The Avengers: Endgame
12 Monkeys
Star Wars Trilogy and Phantom Menace on bloody LaserDisc, from before all the bullshit!
| | |
| --- | --- |
| PING? PONG! | 2018-09-18 04:59:05 ET |
About time for the old "How's everyone on SK doin?'" :D
| | |
| --- | --- |
| Introducing "How Now?! Vidya!" Coming very probably. | 2016-12-03 05:52:58 ET |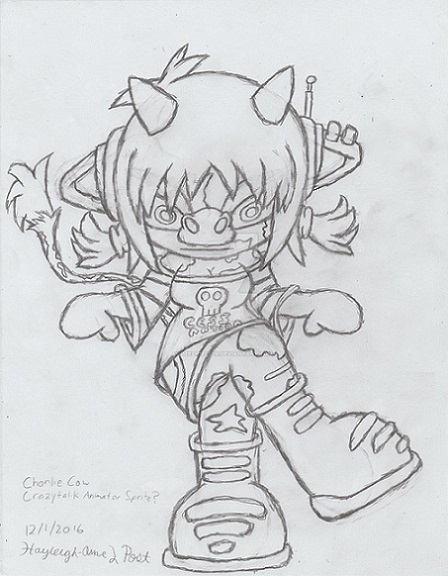 Have an animation cell. Hopefully this'll be like my first coherent thing ever, and that I'll find a topic people care about. :P
------------
Fingers
Pokémon Sun (3DS)
Hatsune Miku: Project Mirai DX (3DS)
Rock Band Rivals (XBONE)

| | |
| --- | --- |
| zOMG PLOT TWIST | 2016-06-28 21:17:08 ET |
So it's been an interesting few months. Netherlands was pretty cool, but then something really neat happened in the form of a significant other, a real one. This was someone from Maine who I kinda helped save from some asshats she was staying with in Philly. I had dated her before but they had pretty much threatened her out of it, but then some time after she had been back home, she asked for me back and to live with her. Totally knew what I had to do there. Two months in and it's been really great. I'm happy I'm resuming what we'd stared and, on an unrelated note, that I'm also finally seeming to grow as a person, it's crazy. Byes for now, I'ma try to use this more.
----
Eyes
Laserdiscs! Many Laserdiscs!!

Fingers
Power Rangers Dash (ANDROID)
Splatoon (WII U)
Shaq-Fu (GEN)
Grand Theft Auto V (PS4)
Rock Band 4 (XBONE)
Guitar Hero Live (XBONE)
| | |
| --- | --- |
| Afscheid, Verenigde Staten! | 2015-09-30 16:03:44 ET |
So! Short news, I might be emigrating to Holland soon. Long news once I figure everything out. :O
Okay, guys. I'm gunna try and bring something to the table because I feel like I actually can tonight. Now think about this if you'd like. Friendships...are like little case studies. Agree or disagree?
IT DID IT FOR ME, FOO! ^_^




Seriously, who's playin'?
---------------------------
Fingers
Saints Row IV: Re-Elected [xONE]
Saints Row: Gat out of Hell [xONE]
Project Spark [xONE]
Splatoon: Global Testfire [WIIU]
Super Smash Bros. for Wii U [WIIU]
Saints Row: Gat out of Hell [X360]
Super Smash Bros. for 3DS [3DS]
Power Rangers Super Megaforce [3DS]
Power Rangers Super Legends [DS]
Imagine: Sweet 16 [DS]

Future Fingers
Splatoon [WIIU]
Xenoblade Chronicles X [WIIU]

Ears
Kidneythieves - Zerospace Album