| | |
| --- | --- |
| From the dark to the light, it's a super sonic flight: gotta keep it going!!! | 2004-10-03 14:16:50 ET |
ANOTHER EBAY BOOYAH




I did this solely to play Sonic CD. The game is awesome, same 16 bit graphics, but with the addition of CG movies and recorded music on CD tracks. I'll try and put up some screenshots or something later.

I started going back to the mall and something weird happend where was this random girl who said hi to me and her friend asks me to sit down. So pretty much I made instant friends weird.

Also on my game playing was the PS2 Power Ramgers Dino Thunder. Being a fan of the old 2D games, I wanted to see how this was. Well was okay but it kinda sucked, You didnt get to play as the Rangers; youre stuck in the Zords. There's no fighting at all, just shooting, and that was god awful considering theres no targeting system or anything. There was no music from the show. There were no voice actors from the show (well these actors did an okay job, except for Tommy's; it sounded totally different). It was only twenty dollars though. So that was cool. I liked the game boy advance version better.

I'm still waiting for THUG2. When I get it, I'ma go though the customization and put up some screenshots of the stuff i did.

So anyway byesey bye until then.
-----------
Fingers
Sonic the Hedgehog CD (MEGA CD)
Power Rangers Dino Thunder (PS2)

Ears
They Might be Giants: Ana Ng


ONE WEEK FOO!
| | |
| --- | --- |
| Alien Slime: drink it all the time-drink it all the time | 2004-08-21 05:28:58 ET |
So the past couple of weeks have been pretty good. Two weeks ago me and my friend PJ went to the mall and met up with this cool girl named Erin and her friends. It went kinda weird because neither of us said much to each other. But it was fun anyway. But the following week was really cool because i went to meet them at a show. It was a free show that aimed at getting people to vote. It was cool because There were a lot of like underground bands that played. Oh yes this one band, Last Week of the Day, was able to get a couple of people to mosh. It was the first time i really witnessed moshing, i even got in a couple times. I'm sure I looked stupid. The band even played our favorite song, "Eat a Hoagie." Its a great song, even though my mother hates when i play it. So anyway, fun time.

In other news, I recently picked up Disney's Extreme Skate Adventure, Its and okay game that was based off of the Tony Hawk's Pro Skater 4 engine. But it was totally stripped down and it only gave you a handful of tricks to do. It featured a weird collection of songs pulled off of Radio Disney, a couple of them were pretty bad. It provided about the same challenge as Tony Hawk but most of the goals were kinda easy. It was an okay game. But it was suprisingly hard to find. If you see it then I say give it a shot

Anything else cool happens then i guess I'ma write about it, Till then, that is all...
---
Ears
Last Week of the Day: Eat a Hoagie
Crush 40: In the Lead

Fingers
Disney's Extreme Skate Adventure (PS2)
Xbox Music Mixer (XBOX)
| | |
| --- | --- |
| more ugly | 2004-07-06 10:14:32 ET |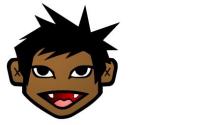 Bea jumps on the dooky bandwagon
---
Ears
Dorah: Carrion

Fingers
Guitar Freaks (PSX)
Guitar Freaks Append 2nd Mix (PSX)
Well I failed to make a birthday post again; it was last friday the 11th, 17 doesnt feel any different from 16, Actually i dont think i ever felt different with my birthdays..meh, I got some cool stuff though, like some guitar controllers along with the second Guitar Freaks, which is a hell of a lot better than the first, but i've been playing it on a computer emulator because it found the modchip on my PlayStation and wont play, so i'm also getting a new Japanese Playstation, heheh

Cool things have happened since I posted last. I'm acually hanging out with friends. My new school has been so much better than where I was. I got the coolest ladyfriend ever. I been drawing more. All around things have been better.

If I got more to say I'll say it. Till then, buh-bye...
-----------
Ears
Crush 40: What I'm Made Of
Brides of Destruction: Shut the F--k Up

Fingers
UNiSON: Rebels of Rythm and Dance (PS2)
Backyard Wrestling: Dont Try This at Home (XBOX)
Guitar Freaks Append 2nd Mix (PSX)
| | |
| --- | --- |
| YEEE!! | 2004-04-27 14:09:32 ET |
Two years and under 20 pages. Yeesh.