| | |
| --- | --- |
| hmmm... | 2006-09-02 00:10:15 ET |
THE ARTIST STRIKES AGAIN!!!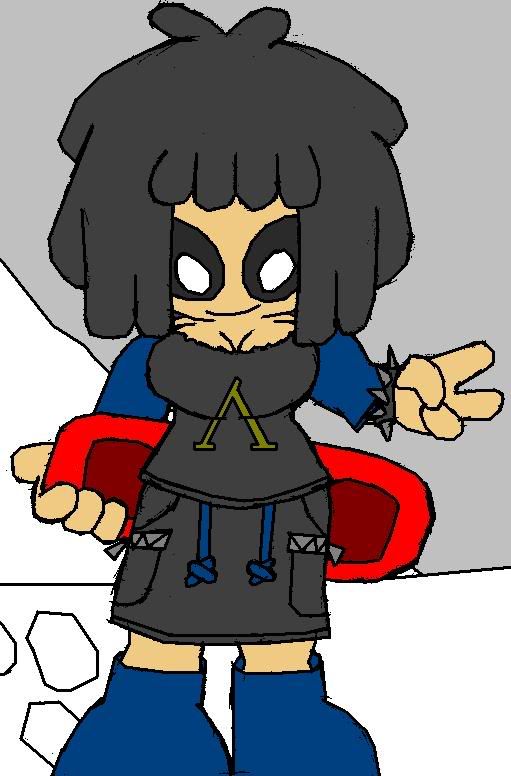 It's Lambda Piscoya: The Random Lambda!!! I basically named her after the default name for created characters in Rumble Roses XX, where she originated.

Uhm, real updates on my life to come.
---------
Fingers
Pepsiman: The Running Hero (PSX)
Dance Dance Revolution Konamix (PSX)
Rumble Roses XX (360)

Potential Bleeding Fingers
ParaParaParadise (PS2)
Tony Hawk's Project 8 (360)
| | |
| --- | --- |
| Sony likes coffee, Sony likes tea... | 2006-07-04 18:21:59 ET |


...BUT THEY DON'T LIKE NAYGERS. NO SIRRREEEEE!!

discuss.
----------
Fingers
Kingdom Hearts II (PS2)
Beatmania (PS2)
Beatmania: The Sound of Tokyo (PSX)
Beatmania: Best Hits (PSX)
Pump it Up! Zero (Arcade)
Power Rangers SPD (GBA)

Ears
Bomb Factory: Deadly Silence Beach
Animetal: Mahou Sentai Magiranger
Animetal: Tokusou Sentai Dekaranger
Animetal: Midnight Dekaranger
| | |
| --- | --- |
| The New and Improved Dr. Robotnik: What the Crap? | 2006-05-18 19:13:00 ET |


opinions?
| | |
| --- | --- |
| dance-dance-get-winded-and-fall-on-your-can-to-NES-classics...revolution!!!! | 2006-04-22 15:39:01 ET |
I done made me a myspace...i did it a while a go but I never mentioned it, so here it be:

http://www.myspace.com/beedrill5ER

I think that this month was like DDR-out-the-wazoo month, and all I have to say is dont import 2nd ReMix. Its unplayable...but it does have Tubthumping! I also got Mario Mix with a check I got from my great aunt for no reason except it was around Easter I guess. The game actually wasn't half-bad. It had some neat music...some not so neat music...and then it had "Pomp and Circumstance." I thought it would have stunk but the game totally sold out so I had to see what the fuss was about. Ergh I had to send my parents out to Philly during my class to grab me a used copy. It was that hard to score...and it had no dance pad on top of that! I've been playing with a controller until today when I had to settle for a Mad Catz Beat Pad, which only exists because of MC Groovz. It's a not to shabby alternative. lol It'll be less shabby when i do something like this! But I ponder about the Action Pad as I believe its made by Nintendo: the lovely makers of the Power Pad! To do on a Konami Dance Pad what you did on a Power Pad would have killed it. So thats about it. I thank my parents heavily for bearing with me the best that they could this week....and SK for not deleting my scarce ass.
-------
Fingers
Oha Star Dance Dance Revolution (PSX)
Dance Dance Revolution 2nd Remix (PSX)
Dance Dance Revolution 3rd Mix (PSX)
Dance Dance Revolution 4th Mix (PSX)
Dance Dance Revolution 5th Mix (PSX)
Dance Dance Revolution Mario Mix (GCN)
| | |
| --- | --- |
| Even though I was scolded for not washing my hands, I'm still Feeling Happy!!! | 2005-11-23 10:34:38 ET |
A neato little flame from thatgirl_0516 on TV.com

"NOOOOOOOOOOOOOOOOOOOOOOOOOOOOOOOOOOOOOOOOOOOOOOOOOOOOOOOOOOOOOOOOOOOOOOOOOOOOOOOOOOOOOOOOOOOOOOOOOOOOOOOOOOOOOOOOOOOOOOOOOOOOOOOOOOOOOOOOOOOOOOOOOOO MORE Power Rangers. Could you be more sick of hearing the words Power Rangers. Come on everybody I know your sick of them to. In the being Power Rangers was the so to watch. If you did watch every show of Power Rangers you were a loser:(- Now its like know some one is kill you very slowly. After Power Rangers In Space you think it would be over but nooooo they bring Power Rangers Wild Force. (I think?) But even so its was still to much. But to make things worse they bring out Power Rangers Magical Forces. Its just a rip off of Harry Poter. Please all my good people if you have an backbone please write in and tell them to stop. And the people who make Power Rangers stop for the love of everything Holy and Scared please stop. I\\\'m begging you. Please just stop the maddness. Just stop.XOXOXOXOXOXOXOXOXOXOXOXOXOXOXOXOXOXOXOXOXO

How I love badly written out flames. She may be entitled to her opinion but yeesh!