If you want to know someting, ask! But take care, I am biting! :P

I wanna have this here from now:

Bands I like (mostly it's punk77): Adicts, 999, The X, The Maniacs, Vapors, Chords, Drones, Germs, Chelsea, SHAM 69, Angelic Upstarts Menace, Guilty Razors, Nipple Erectors, Rezillos, Wasps, Wire, Undertones, Partisans, Plasmatics, Slits, Automatics, Stranglers, Victims, Tenpole Tudor, Fast Cars, Eddie and The Hot Rods, Bags, V2, Vibrators, Slaughter and The Dogs, Generation X, Skids, Ruts, X-Ray Spex, Peter and The Test Tube Babies, The Lurkers, Jam, Jermz, Cheap Sex, Discipline, Discharge, Varukers, Vice Squad, UK SUBS, Twinkles, Toy Dolls, Specials, Toasters, Skarface, Boomtown Rats, Casualties, Stiff Little Fingers, SS-Kaliert, Public Image Ltd., Members, Perkele, Eater, 8°6 Crew, Blitz, Devotkchas, Damned, Defiance, Oi Polloi... and more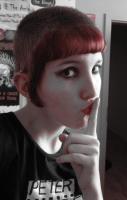 Psst!