| | |
| --- | --- |
| blah... | 2006-10-24 13:56:46 ET |
I guess I'm spending too much time inside. Jason says I need a hobby.
I've been crabby, cause I miss my fast paced life I had back home.
I might have lived in a shitty small time, but we knew how to make the best of things.
I have 2 female friends here...both married.
i had 3.. but she moved to Georgia...
sucks.
This house is driving me insane.
His nieces wont leave my shit alone and have no respect for anyone or anything.
His youngest niece talks to me like I'm a child and shes the adult and abuses the shit outta my puppy....and they let her do it.
He's going to get big and bite the fuck out of her one day... and I told Jason , I dare one of them to tell me I have to get rid of him or put him down. He is only like that with her, because she is mean to him... there are other youngins around and he doesnt act like that with them.. only her.
I'm annoyed.
Jason and I have to get jobs and our own place, or I'm going to end up in the nut house.

I'm here alone while Jason is at the usual tuesday band practice.
they usually get done at 10pm, and then Jason likes to run his mouth for 2 hours.
but I told him today.,.. its one of those days, and he better be home after practice.. cause if he comes rollin in at midnight he might aswell park his ass on the couch for the rest of the night.
today we had the whole house to ourselves... and i was in the living room and jason was in the computer room...all day.
he felt a need to practice all day...
sometimes you just cant help but to get jealous of a guitar...

i'm just ranting , cause like i said.. its one of those days where you have nasty mood swings.. and anything makes it worse.


| | |
| --- | --- |
| i'm inlove.. | 2006-10-19 18:25:06 ET |
I'm so mushy and gooey with the love bug.
its intense..
some days I dont know how to take it.. its overwhelming..
everyday I wake up and see his face.. and its like falling inlove over and over again.

| | |
| --- | --- |
| yes yes... | 2006-10-18 18:49:16 ET |
its love. lol.

| | |
| --- | --- |
| pictures. | 2006-10-13 12:56:03 ET |
here are some pictures of my son... Wyatt...






for some reason he likes Jason's shoes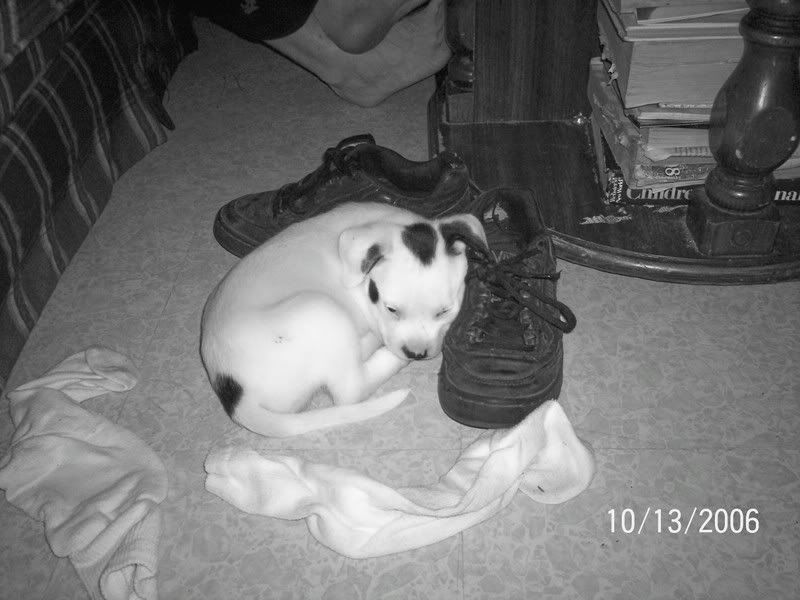 Me and Wyatt ( please excuse my face.. i've been sick and have no make up on)




Wyatt playing with Jason's sisters dog, Layla.



and here she is about to eat his face...lol..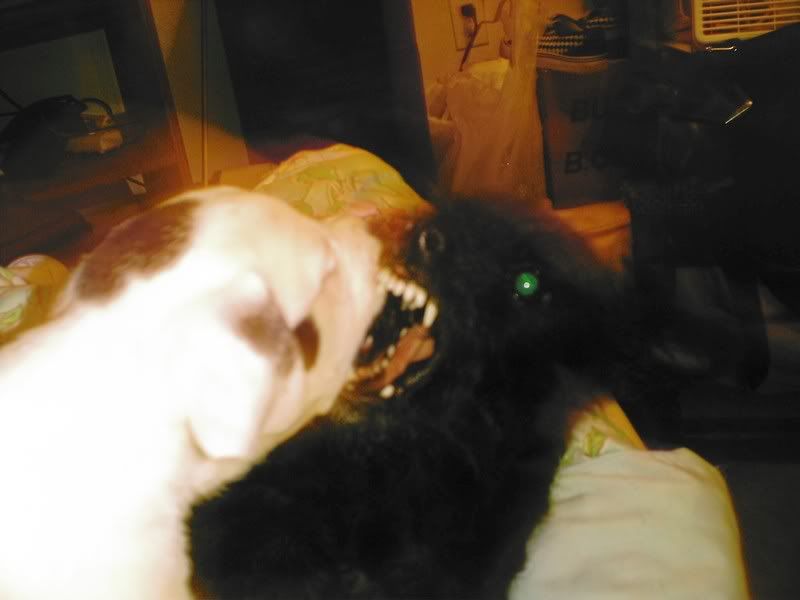 CAN WE SAY SPOILED!?


i'm sure thats enough for now.. i got my new camera and these are the results.
hope you enjoy, my joy.
| | |
| --- | --- |
| blahness... | 2006-10-12 14:57:26 ET |
I'm still soo sick.
I believe I have bronchitis....I guess I'll find out tomorrow.
Jason is kinda making me go to the Dr.

we completely cleaned one of the bedrooms here and rearranged it.
it looks nice.

Tomorrow I go and pick up what I think is my last check from the hotel.
then I'm getting my new digi cam, a pair of jeans, jason new underwear and puppy food.
then we are taking his niece to the TRAIL OF TERROR!!!
where i'll probably piss my pants.
last time i was at one of those I pissed my pants when a chainsaw was in my face.
that was about 2 or 3 years ago...maybe alittle longer.
oh well.

i know i need to eat something, but my tummy doesnt want food.
and well i really dont feel like forcing myself to eat.