| | |
| --- | --- |
| best thing I've never heard, ever | 2005-09-22 19:45:38 ET |

I haven't heard this album yet but just the idea that Calexico and Iron and Wine made an album together leaves my ears all a'twitter with joy.
| | |
| --- | --- |
| In no particular order... | 2005-09-20 19:14:39 ET |
I am now once again a Cruzite. I have moved in to my new home on an island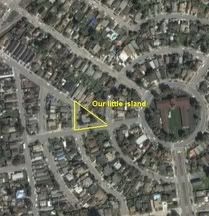 Classes start on Thursday, this quarter should be good
* Japanese 1. Elementary Japanese
* Physics 107. Fluid Dynamics
* Physics 134. LAB
* Physics 195a. Sr Thesis Research
unfortunately this schedule gives me an 8:00 am class every day, looks like I'll be taking my share of naps.

My room has ant in it again, it's going to take some work but I'm trying to befriend them. It worked last year, but these guys don't seem so benevolent.

My Fish, Darwin, now has a friend; it seams to be surviving just fine. I still donít feed them and the new one still looks happy so Iím thinking itís about time to give it a name, Iím thinking of naming it after a knot or something. Iíll see if I canít get a picture of it soon.

It has been rather difficult setting up the network here in the house. Manly because weíre too lazy to go out and get a wireless router. This is our current setup


Frankly Iím amazed they all work.

My room still has one wall that needs decorating, now itís just boring and white, any Ideas what I should do?

| | |
| --- | --- |
| now where's my glock? | 2005-09-15 22:32:32 ET |
I have been working with the Navy Postgraduate School here in Monterey over the summer with some wave obseving radars. I got myself a red watch cap today, now I finaly call myself an oceanographer.
| | |
| --- | --- |
| Bludgeoning Pants | 2005-09-11 20:19:42 ET |
This will my last week in this socially withered town of Monterey. Today I moved all but my clothes across the bay. I think I'm less exited about going back this year than any-other. Maybe it's because this time I'll be leaving friends behind, unlike the past were all my friends had left to school before me. Or maybe it's because when I go back I'll have to start working on my Thesis, or even the Idea that I'll only have one more year left and I really don't feel ready for the real world. Aw, now I'm making myself miss this summer and it's vastly entertaining boredom.

On a less melancholy note we have decided to create a band. This band's music will not be important, in fact we don't care if nobody listens. This band will however direct all of it's creative power into making awesome song titles. So far We are three, Jules - key-tar, Byron - bass, AJ - trumpet. Our fist album is entitled 'Night of a Thousand High-Fives'.